USED T2 (-10) USA 2 5/8" Baseball Bat
Try any TRUE Baseball Bat from the comfort of your home, local club, cage or field before you buy! Test out different lengths, models, or league association bats to give yourself a TRUE feel of how each bat performs in any hitting environment you choose – test the bats at home, at practice, or even in a game… you decide!
Although you can demo any bat from our line, we encourage using the Online Bat Finder for a personalized recommendation.
Our Demo Program allows you to check out up to three (3) bats at a time for fourteen (14) days. The demo fee is $15 per bat which includes initial and return shipping. Upon completion of demo period you will you will receive a credit of $15 per bat which will be issued as a promo code valid toward the purchase of any new TRUE Baseball Bat. Promo code must be entered in shopping cart at the time of checkout on a new Bat order. 
* Demo Bats appearance may differ from actual product.
**Failure to return any or all DEMO bats will result in a credit card charge for the full retail price of the bat(s).
Features of the T2 Baseball Bat
Optimized for fly ball / power hitters
Extended barrel length, compact handle length
Optimized swing weight to accentuate launch and carry characteristics favored by stronger power hitters
2-Piece Material Construction
2-5/8" Barrel Hybrid
Composite Handle
Longer Barrel
The powerful T2 is specifically designed to deliver more power potential for USA Baseball long-ball batters. Similar to its T1 counterpart, the two-piece T2 bat, it features proprietary SmartPly Technology but with weight specifically crafted to drive the ball deep! With Fused Hybrid Technology, the two and five-eighths aluminum barrel is seamlessly connected to a composite handle for low drag and reduced vibration. Stronger hitters will appreciate the added power and launch optimization that results from the T2's compact handle length, proprietary end loading and extended barrel length.
Read More
Try any TRUE Baseball Bat from the comfort of home (or practice or game!)
We are so confident you will love our bats, we let you hit them before you buy.
Recommendation: Test 2-3 bats at a time to compare the performance differences.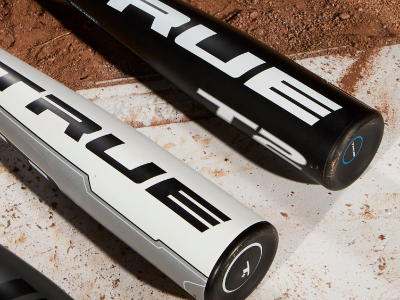 *The stated weight of the bat, indicated by the drop, is not intended to, and should not be relied upon to, calculate the actual weight of the bat. Variances in the actual weight of the bat versus the labeled approximate weight of the bat as the actual bat weight may vary for numerous reasons, including without limitation manufacturing tolerances, certification calculations and standards, the grip weight, the length of the bat, performance considerations, cosmetics, packaging, any post manufacturing modifications/additions (such as the grip, knob sticker, or consumer packaging), and/or other reasons.
Specifications
More Information

| | |
| --- | --- |
| Baseball Weight | 22.5, 22, 23, 19, 19.5, 20, 20.5, 21, 21.5 |
| Baseball Barrel Diameter | 10 in. |
| Baseball Barrel Profile | Extended Barrel |
| Baseball Grip Length | 10 in. |
| Baseball Grip Type | Sport Wrap With Standard Grip |
| Color | Black |
| Drop | -10 |
| Grip Size | Standard |
| Baseball Certification | USA Baseball |
| Model Number | T2 |
| Baseball Bat Condition | Used - Final Sale, No Warranty |