AX9 Senior Standard Hockey Shaft
AX9 features an optimized low kick shaft profile for lightning quick, explosive shots in our highest performing, most impressive design to date.
Lightning quick release with low kick-point.
Features game changing FiberSHIELD resin technology for greater durability with a 5% weight reduction and optimized balance point.
Flex point in the bottom third of the shaft near the hosel for ease in loading and lightning quick release on wrist and snapshots.
Soft gloss grip shaft.
Square corner double concave shaft.
Read More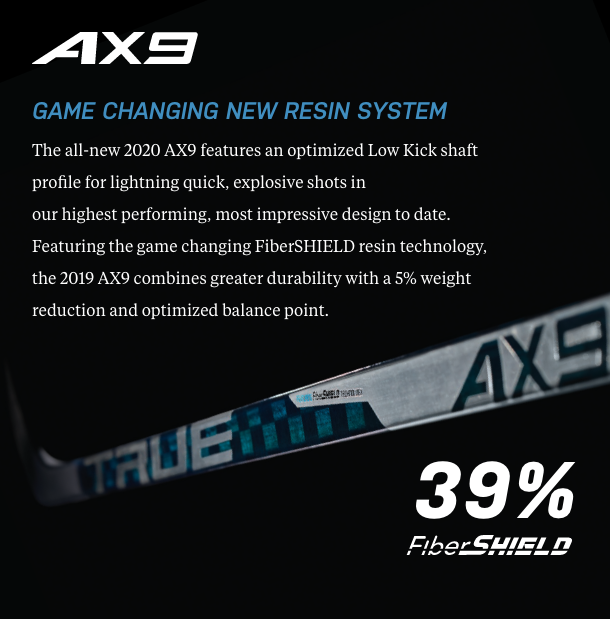 NEW FIBERSHIELD TECHNOLOGY
By dispersing low-density nanoparticles throughout the blade and shaft, the AX9 2020 yields greater overall durability while reducing weight and optimizing balance.
With a flex point near the hosel in the bottom third of the shaft, players experience effortless energy loading and an explosive release.
Through our FiberShield formula which yields consistent particle distribution and stiffness, as well as lighter carbon tow weaves, we've produced a lighter, more responsive stick than its predecessor.
SmartPly is a process by which fiber angles, and the order of those angles, are optimized in up to 25 layers of unidirectional carbon fiber in a single shaft. SmartPly technology creates the perfect marriage between weight, balance, and industry-leading impact strength.
Specifications
More Information

| | |
| --- | --- |
| Weight* | 290g |
| Color | Black |
| Stick Length | 54 in. |
| Model Family | AX9 |
| Flex Pattern | 75, 85, 95 |