CADET Intermediate Alloy Complete Stick – Black Camo
Premium Youth boy's full-size lacrosse stick designed to improve control, accuracy, and performance. The CADETTM Head features a mid-flare face shape that allows for easy catching as players learn the game. The Low Scoop Angle on the head is designed to let players at youth level lacrosse pick up ground balls easier. The updated alloy handle design features the new True Temper "Hammers logo" and subtle black camo accents for a mean look on field.
Read More
Designed with an easy to catch face shape that helps direct the ball directly into the pocket and low angle scoop for easy ground ball pickups.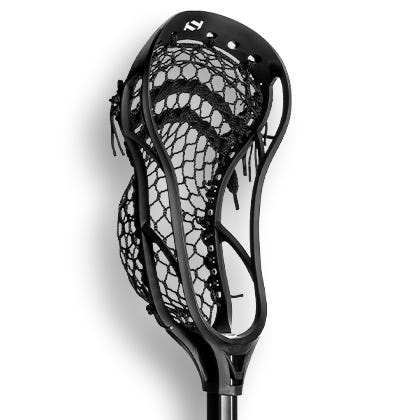 The 30" all-around alloy handle on the CADETTM complete stick provides increased durability and provides an easy grip for better control when cradling and dodging.
The 10 diamond semi-soft pocket in the CADET complete stick was designed to create a smooth release out of the pocket for a consistent release on shots and passes.
*Variances in the actual weight of the product versus the labeled approximate weight of the product may occur as the actual product weight may vary for numerous reasons, including without limitation manufacturing tolerances, performance considerations, cosmetics, packaging, post manufacturing modifications/additions (such as pocket stringing, screw, or handle endo), and/or other reasons.
Specifications
More Information

| | |
| --- | --- |
| Weight* | 20oz. |
| Length | 30 in. |
| Model No. | LAX-22-CS-CAD2-A30-BK |
| Color | Black |
| Mesh Type | Mesh |
| Mesh Construction | 10 Diamond and Mesh Material: TRUE Tufflight - Semi-Soft/Lightweight mesh |
| LAX Head Color | Black |
| Handle Diameter | 1" standard size |
| LAX Handle Type | Alloy |
| Handle Color | Black |
| LAX Handle Finish | Fine Texture |
| LAX Handle Flex | Powerflx |
| LAX Handle Concave | Concave |
| Player Type | All Around, Youth |
| Position | Attack, Midfielder |
| Recommended Age | Adult/HS |