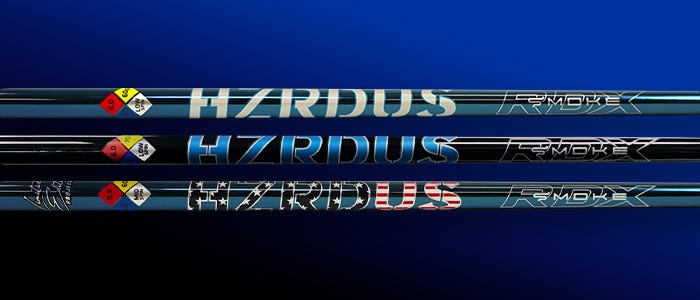 To make the best, you have to use the best. Project X has teamed up with Hexcel®, a global leader in composites technology for aerospace and military operations, to utilize their HexTow® carbon fibers. Hexcel's HexTow® carbon fiber represents the highest quality aerospace-grade carbon fiber delivering superior performance on some of the world's most advanced aircraft.
Players are always chasing that perfect balance of feel and stability from a golf shaft. Something not too boardy, but not too whippy; the ideal amount of smooth yet stable is the holy grail. With a unique bend profile that strategically changes per flex for player optimization, and the use of Hexcel's HexTow® carbon fibers, Smoke Blue RDX is a shaft that ticks all the boxes.
Smoke Blue RDX is a counterbalanced design that features a soft midsection to maximize shaft load and feel while maintaining a stout butt and tip section to keep up with all swing speeds and provide a stable feel through impact. Smoke Blue RDX is available in a gloss black finish, PVD Blue finish and a limited edition U.S.A. themed PVD Blue version exclusively through Performance Fitting Centers.
Tempo is not how fast you swing it, it is how you swing it fast. Tempo will affect how you load and unload the shaft and is a big factor in which shaft will best suit you. A player with a quicker backswing and more aggressive transition will have a faster tempo, while a player with a slower backswing and smoother transition will have a more deliberate tempo.

Trajectory is the flight of the ball and the peak height that the ball reaches. A player who struggles with getting the ball in the air should look towards a higher trajectory shaft, while a player who struggles hitting the ball too high should look for a lower trajectory shaft.

Spin is the amount of backspin that the ball has. The designs of certain golf shafts can promote more or less spin so keep this in mind when looking for a shaft to maximize your game.