T1 (-10) USA 2 5/8" Baseball Bat
Incredibly advanced, the all-new T1 Bat from TRUE Diamond Science boasts revolutionary SmartPly Technology. The T1 is the weapon of choice for USA Baseball line-drive hitters ready to ratchet up their swing performance.
Optimized for line drive / gap to gap style hitters
Classic barrel length, extended taper section
Balanced swing weight designed to accelerate the hitters time to contact
2-Piece material construction
2-5/8" Barrel Hybrid
Composite Handle
Classic Barrel Langth
The proprietary SmartPly process creates harmony between weight, balance, and industry-leading impact strength. The 2-piece hybrid construction features Fused Hybrid Technology, flawlessly connecting the two and five-eighths aluminum barrel to a composite handle for reduced vibration. Optimally engineered with an extended tapered section and a classic barrel length, batters will experience the optimized swing balance that puts more weight toward the bat handle drastically improving time to contact. The T1 is a great choice for players looking for maximum versatility and control from their gamer bat.
Read More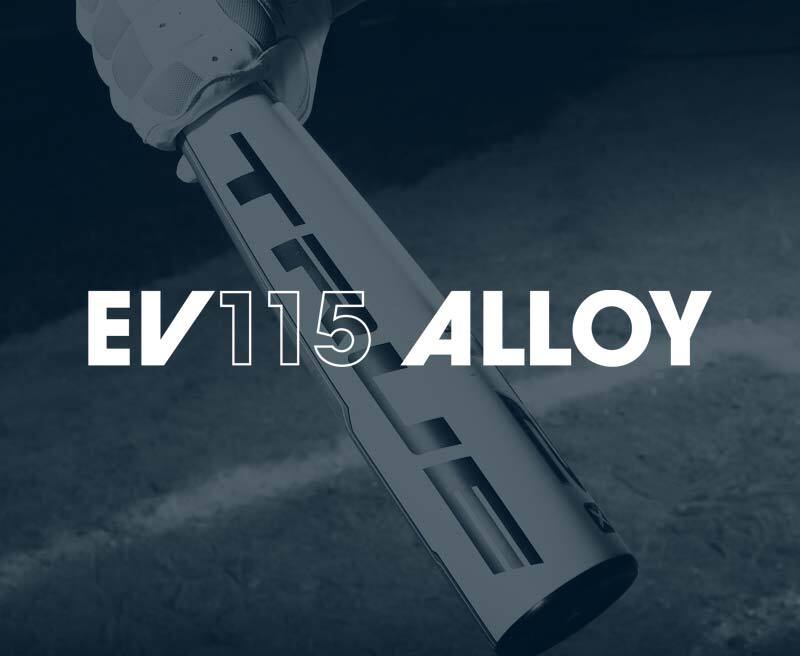 The carbon composite handle is fused to the aluminum barrel to optimize swing weight, eliminating unnecessary bonding weight to create maximum barrel performance. The TRUE stepless design provides efficient energy transfer and maximizes swing speed.
The SmartPly process utilizes up to 25 layers of unidirectional carbon fiber in a single bat. This technology creates the perfect blend of weight, balance, and industry-leading impact strength while optimizing feel and vibration damping for the hitter.
TRUE sports advanced EV 115 aluminum, allowing for maximum response and durability, while maintaining the thinnest barrel walls possible.
*The stated weight of the bat, indicated by the drop, is not intended to, and should not be relied upon to, calculate the actual weight of the bat. Variances in the actual weight of the bat versus the labeled approximate weight of the bat as the actual bat weight may vary for numerous reasons, including without limitation manufacturing tolerances, certification calculations and standards, the grip weight, the length of the bat, performance considerations, cosmetics, packaging, any post manufacturing modifications/additions (such as the grip, knob sticker, or consumer packaging), and/or other reasons.
Specifications
More Information

| | |
| --- | --- |
| Weight* (oz) | 17, 17.5, 18, 18.5, 19, 19.5, 20, 20.5, 21, 21.5, 22, 22.5, 23 |
| Swing Weight | Balanced |
| Barrel Diameter (in) | 2.625 in. |
| Profile | Traditional Barrel |
| Grip Length (in) | 10 in. |
| Grip | Sport Wrap With 2 Size Options |
| Color | Black/Grey |
| Drop Weight* | -10 |
| Construction | Hybrid |
| Baseball Certification | USA Baseball |
| Model Number | T1 |
Great Bat

The bat looks, feels and performs great. It is solidly built and is impressive from the detailing on the barrel to the supple leather grip. My son has noticed much less vibration and "stinging" from mishits as compared to other brands. He brought it to his little league game last night for the first time and pretty soon half the team was using it. it also has a unique sound on contact similar to the "crack" of a wood bat. I definitely recommend this bat for your player.

My kiddo immediately noticed the difference in pop

Folks, the demo program is legit. No other bat company, that I know of, does this. You have nothing to lose, and no worries about buyers remorse.

We got 2 different size bats to try for two weeks. My boy utilized them during indoor league and practices for the demo period. My kiddo immediately noticed the difference in pop when compared to his Louisville bat. The ball certainly looked as if it jumped off the bat when compared to others.

Ultimately, we decided to go with True for his last Little League season. We plan on doing a demo for the USSSA for the tournament season.

True is legit, and the demo program proves it

We have an active little leaguer who loves to play the game, we noticed True Diamond's demo program which helps ease the tension of purchasing an expensive bat. Boom! Bat arrived in 72 hours and he was swinging in both games and practice. We even tried a second model to confirm the best fit. True worked with us through the entire process. Now we are going to be swinging a T-1 and we couldn't be happier.

True is legit, and the demo program proves it. Happy hitting and good luck.

Great results

This T1 bat really improved my son's results this past season, from cages to field.