T2X (-8) USSSA 2 3/4" Baseball Bat
As low as
$280.00
NOW
$150.00
This masterfully designed two-piece T2X hybrid bat was created specifically for the USSSA Baseball middle of the lineup batter.
Optimized for fly ball / power hitters.
Extended barrel length, compact handle length.
Ideal swing weight to accentuate launch and carry characteristics favored by stronger hitters.
2-Piece material construction.
2-3/4" barrel hybrid.
2x2 twill handle weave.
Stepless design.
Boasting revolutionary SmartPly Technology, every inch of the T2X was designed for impressive deep performance. Each handle is comprised of up to 25 layers of unidirectional carbon fiber, meticulously optimized and manufactured for revolutionary weight balance and bat-to-ball impact strength. The two and three quarters aluminum barrel, with its extended barrel length and optimized end weighting is seamlessly fused to a compact composite handle. TRUE Diamond Science's T2X provides increased moment of inertia and optimized barrel dynamics for the power hitter. The Fused Hybrid Technology optimizations are instantly recognizable in the aerodynamics of every swing so T2X batters can dominate the diamond.
Read More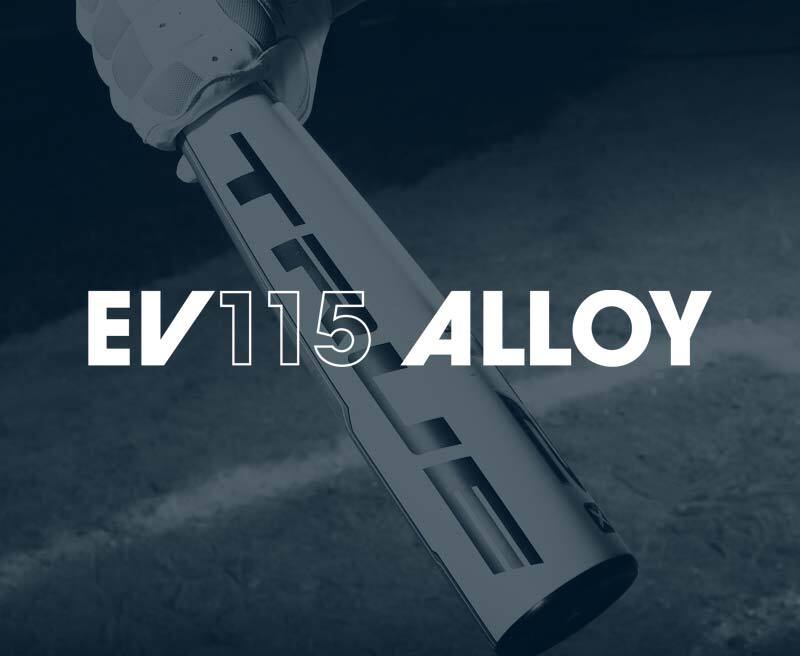 The carbon composite handle is fused to the aluminum barrel to optimize swing weight, eliminating unnecessary bonding weight to create maximum barrel performance. The TRUE stepless design provides efficient energy transfer and maximizes swing speed.
The SmartPly process utilizes up to 25 layers of unidirectional carbon fiber in a single bat. This technology creates the perfect blend of weight, balance, and industry-leading impact strength while optimizing feel and vibration damping for the hitter.
TRUE sports advanced EV 115 aluminum, allowing for maximum response and durability, while maintaining the thinnest barrel walls possible.
*The stated weight of the bat, indicated by the drop, is not intended to, and should not be relied upon to, calculate the actual weight of the bat. Variances in the actual weight of the bat versus the labeled approximate weight of the bat as the actual bat weight may vary for numerous reasons, including without limitation manufacturing tolerances, certification calculations and standards, the grip weight, the length of the bat, performance considerations, cosmetics, packaging, any post manufacturing modifications/additions (such as the grip, knob sticker, or consumer packaging), and/or other reasons.
Specifications
More Information

| | |
| --- | --- |
| Weight* (oz) | 23.0, 23.5, 24.0, 24.5, 25.0 |
| Swing Weight | Power |
| Barrel Diameter (in) | 2.75 in. |
| Profile | Extended Barrel |
| Grip Length (in) | 10 in. |
| Grip | Sport Wrap With 2 Size Options |
| Color | Black/Grey/White |
| Drop Weight* | -8 |
| Construction | Hybrid |
| Baseball Certification | USSSA Baseball |
| Model Number | T2X |
love this bat

these bats are the real deal. my son plays 13u. has a t2 ussa drop 8 33inch. love this bat. big hits and several kids also tried his bat also with big hits. wish you made a bbcore for high school. yes same kid as the tracey sundin. but my review comes after the end of season.

The look, sound and pop of this bat really turns heads!

We purchased the T2 drop 8 for my son's first year in travel ball. He has been playing for two years now and we have purchased several bats already. The look, sound and pop of this bat really turns heads! We look forward to seeing what it can help our child accomplish this spring on the field! If the batting cage is any indication of what is to come, then we will be happy campers in 2020!

hit 10 over the fence in center field off soft toss!

Went through the website to see what size bat would work for him. I ended up getting the T2x. 33 drop 8. Took him to the field tonight just so he could see how it feels he hit 10 over the fence in center field off soft toss! He was excited and so was this mom!