T1X (-10) USSSA 2 3/4" Baseball Bat
The cutting-edge balance and hybrid construction of this 2-piece material bat make the T1X an ideal selection for USSSA Baseball athletes' intent on mastering all aspects of modern high performance hitting.
Great for All-Ability Hitters
Optimized for line drive / gap to gap style hitters
Classic barrel length, extended taper section
Balanced swing weight designed to accelerate the hitters time to contact
2-Piece material construction
2-3/4" Barrel Hybrid
2x2 Twill Handle Weave
Stepless Design
Better materials and better design mean improved results. That's why the T1X gives batters the best of both worlds with a composite handle and a two- and three-quarter-inch barrel. These components are masterfully forged together using Fused Hybrid Technology to provide the ultimate in feel. Two-by-two twill handle weave and a step-less design create an optimized swing weight and maximized barrel performance. Coupled with TRUE SmartPly Technology, the T1X carbon fiber shaft is the premier tool for providing swing accuracy, maximum torque control, and top-level impact strength for the hitter responsible for the next RBI.
Read More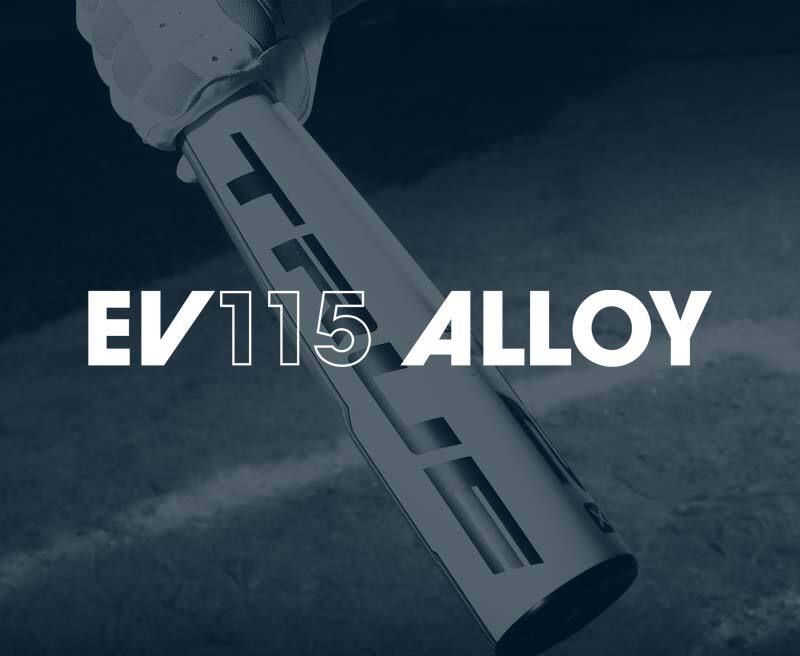 The carbon composite handle is fused to the aluminum barrel to optimize swing weight, eliminating unnecessary bonding weight to create maximum barrel performance. The TRUE stepless design provides efficient energy transfer and maximizes swing speed.
The SmartPly process utilizes up to 25 layers of unidirectional carbon fiber in a single bat. This technology creates the perfect blend of weight, balance, and industry-leading impact strength while optimizing feel and vibration damping for the hitter.
TRUE sports advanced EV 115 aluminum, allowing for maximum response and durability, while maintaining the thinnest barrel walls possible.
*The stated weight of the bat, indicated by the drop, is not intended to, and should not be relied upon to, calculate the actual weight of the bat. Variances in the actual weight of the bat versus the labeled approximate weight of the bat as the actual bat weight may vary for numerous reasons, including without limitation manufacturing tolerances, certification calculations and standards, the grip weight, the length of the bat, performance considerations, cosmetics, packaging, any post manufacturing modifications/additions (such as the grip, knob sticker, or consumer packaging), and/or other reasons.
Specifications
More Information

| | |
| --- | --- |
| Weight* (oz) | 17, 17.5, 18, 18.5, 19, 19.5, 20, 20.5, 21, 21.5, 22.0, 22.5 |
| Swing Weight | Balanced |
| Barrel Diameter (in) | 2.75 in. |
| Profile | Traditional Barrel |
| Grip Length (in) | 10 in. |
| Grip | Sport Wrap With 2 Size Options |
| Color | Black/Blue/Grey/White |
| Drop Weight* | -10 |
| Construction | Hybrid |
| Baseball Certification | USSSA Baseball |
| Model Number | T1X |
TRUE has a great product here.

TRUE has a great product here. I am a coach for an 8U travel team and we tried out the demo bat program. All of our kids enjoyed the bats and even 3 players are looking to purchase. If you're looking to try out a different bat company than the usual suspects I highly recommend TRUE. With 1/2" bat sizes and great communication from the company you are sure the find the perfect bat for your player. Give them a shot!

This bat has POP!!!

My son is 12, plays 13U elite travel. He is 5'4 and 95 lbs. Did the T1 and T2 demos…he liked the T2 so we ordered that bat. This past weekend in tournament play…he had 5 games, batted .500 and had 2 hits that traveled 250 feet. This bat has POP!!!

Excellent bats

Excellent bats

It only gets better after the break-in period!

Got this for my 9u player. He's got a big swing. A lot of other brands of bats sting on miss-hits or just a terrible feel if it wasn't dead center sweet spot. Most hits, he says he can barely feel the ball off the bat. It only gets better after the break-in period

Pleasantly surprised

The demo program is amazing! My son got to swing 2 different bats and make an choice based on live hitting! Hands down some of the best customer service I've ever encounter from any company! My choice to purchase was based solely on how well these bats felt, swung to my son! 120 day guarantee is a huge plus! Definitely recommend anyone to at least try the demo if you're on the fence, you'll be pleasantly surprised by this company!!

Feels Great in the hand

Feels great in the hand – Sounds Good – Has pop similar to our Marucci Posey Edition – No Vibration

True bats definitely have pop.

My 11 year old has had a True since November and he loves it! He get thru the zone faster and almost always barrels up the ball. True bats definitely have pop. Half the kids on our team use his bat and several other kids from our 12U team have hit with it and have purchased drop 8's.

Let me save you the legwork…these bats are worth it.

We were introduced to TRUE by my son's batting instructor. We met with Mark for our first fitting and chose a T1 USA bat back in September. It improved our son's hitting tremendously. We have had several parents approach us during or after games asking for more info on his bat. We were so pleased with the product that we met with Mark AGAIN yesterday to be fitted for this USSSA bat. We will soon be the proud owners of two TRUE bats. As parents, we put a lot of research and thought into our purchases. Let me save you the legwork…these bats are worth it.