CUSTOM TAILORED TO YOUR GAME.
ALL-NEW HZRDUS PRO PLAYER SKATES
TAKE YOUR PERFORMANCE
TO THE NEXT LEVEL.
HZRDUS PRO features a standard moderate-stiff tendon guard combined with a stiffer shell rating to deliver an effective mix of power, response, and control in your stride.
KEY FEATURES:
• POWERFUL STRIDES
• SUPERIOR RESPONSE
• OPTIMAL STABILITY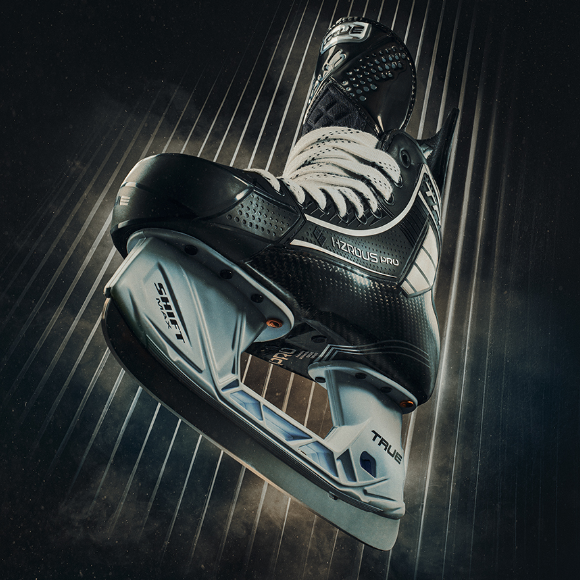 BEST-IN-CLASS FIT MEETS ONE-OF-ONE DESIGN.
Available in a custom-tailored design, HZRDUS PRO takes TRUE's patented NEUROFIT+ shell technology to the next level with ultimate fit, comfort, and performance achieved through our 3D foot-scanning process.
---

---
NEUROFIT+ takes this innovative one-piece shell design to the next-level with thermoformable materials to further enhance fit and neuromuscular connection with the ice, responding to your every movement.

---
This pro-level steel + holder combination offers improved durability and enhanced blade security, while also allowing for easy interchanging on the fly.
---
Our redesigned CARV toecap features a sleeker design aesthetic in an even lighter package, allowing for a more aggressive cutting angle, resulting in quicker turns in transition without losing an edge.

---
Designed from TRUE's 3D foot last, our all-new GENETIX insole offers two different fit systems to accomodate low/mid and high arches. This innovative design combines unique personalization with comfort by integrating metatarsal support to alleviate uneven pressure on high-profile areas of the foot while skating.

---
An antimicrobial liner that compliments our multi-layer construction with improved moisture-wicking and comforting properties to keep your feet dry and responsive with every stride you take.
LEARN MORE ON WHAT MAKES HZRDUS PRO UNIQUE.
FIND YOUR PERFECT FIT WITH OUR MOBILE SIZING APP.
Find us on the app store and visit your local TRUE Authorized retailer to step your game up today.
Join the TRUE Community for exclusive content & promos!