HZRDUS 9X Senior Hockey Player Skates
Designed with a carbon fiber one-piece shell, our all-new HZRDUS 9X player skate features a stiffer shell design for better response, power, and stability in your stride. Using our patented NEUROFIT+ shell technology, we've incorporated the highest-quality thermoformable materials to offer premium fit and unmatched comfort in the elite-level category.
Read More
FIND YOUR PERFECT FIT WITH OUR MOBILE SIZING APP.

Find us in the app store and visit your local TRUE Authorized retailer to step your game up today.

| | | | | |
| --- | --- | --- | --- | --- |
| Skate Size | N. America | Europe | UK | Centimeters |
| 1 | 2 | 33.5 | 1.5 | 21 |
| 1.5 | 2.5 | 34 | 2 | 21.4 |
| 2 | 3 | 35 | 2.5 | 21.8 |
| 2.5 | 3.5 | 35.5 | 3 | 22.2 |
| 3 | 4 | 36 | 3.5 | 22.6 |
| 3.5 | 4.5 | 36.5 | 4 | 23 |
| 4 | 5 | 37.5 | 4.5 | 23.4 |
| 4.5 | 5.5 | 38 | 5 | 23.9 |
| 5 | 6 | 38.5 | 5.5 | 24.3 |
| 5.5 | 6.5 | 39 | 6 | 24.7 |
| 6 | 7.5 | 40.5 | 6.5 | 25.1 |
| 6.5 | 8 | 41 | 7 | 25.5 |
| 7 | 8.5 | 42 | 7.5 | 26 |
| 7.5 | 9 | 42.5 | 8 | 26.4 |
| 8 | 9.5 | 43 | 8.5 | 26.8 |
| 8.5 | 10 | 44 | 9 | 27.3 |
| 9 | 10.5 | 44.5 | 9.5 | 27.7 |
| 9.5 | 11 | 45 | 10 | 28.1 |
| 10 | 11.5 | 45.5 | 10.5 | 28.5 |
| 10.5 | 12 | 46 | 11 | 28.9 |
| 11 | 12.5 | 47 | 11.5 | 29.3 |
| 11.5 | 13 | 27.5 | 12 | 29.8 |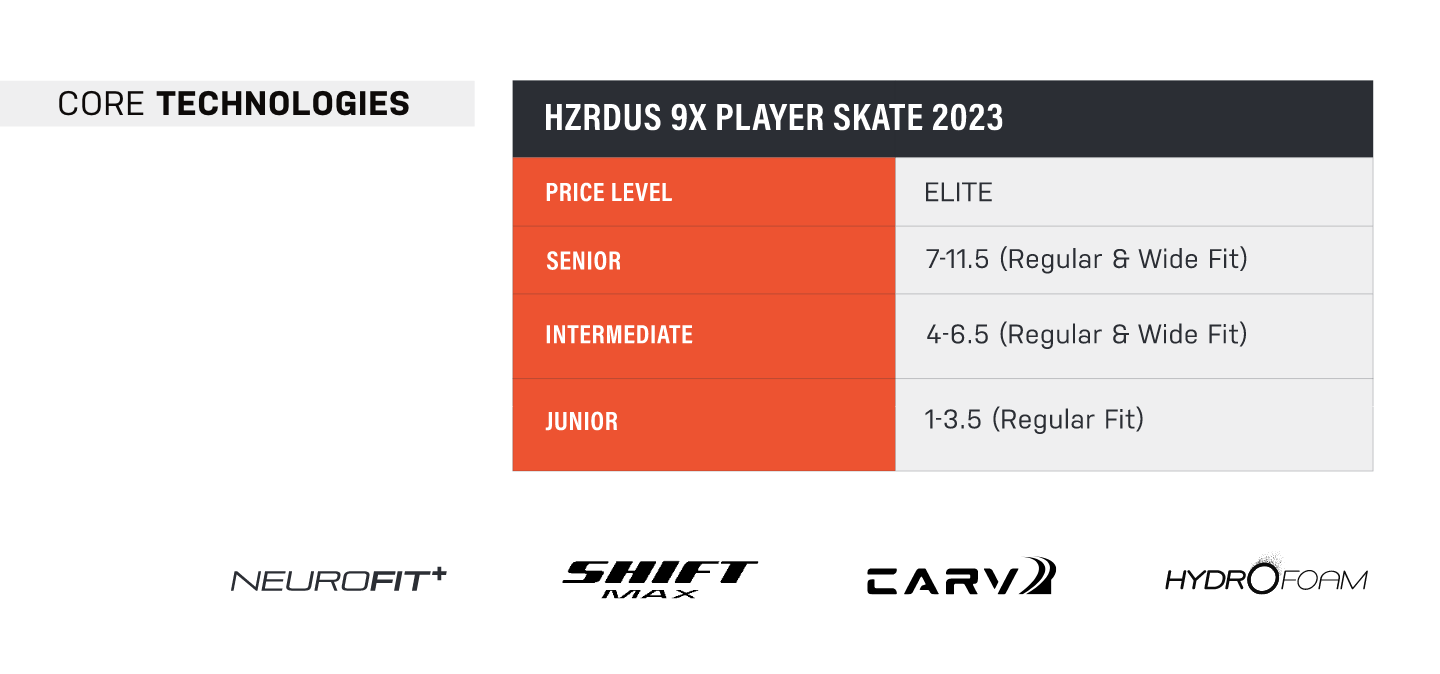 Specifications
More Information

| | |
| --- | --- |
| Player Type | Player |
| Color | Black |
| Hockey Model Family | HZRDUS |